QCDFVR Director Dr Heather Lovatt had the pleasure of chairing Day Two of the Domestic, Family & Sexual Violence ANZ Forum today.
As one of the leading annual forums in Australia, it brings together key stakeholders from across New Zealand and Australia to share practical strategies and programs to create pathways to overcome domestic, family and sexual violence.
Held in Sydney over the 30 & 31 July, the two-day program covered recent government initiatives, technological innovations, protecting children from the trauma of domestic violence, first-hand accounts from domestic violence survivors, long-term behaviour change strategies with perpetrators of violence; helping victims navigate the legal system and strategies to stop sexual violence.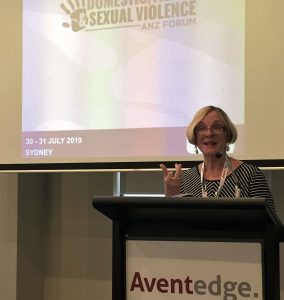 Dr Heather Lovatt opening Day Two of the Domestic, Family, & Sexual Violence ANZ Forum
Heather and Andaleeb Akhand, Senior Conference Manager with Aventage
Heather and OurWatch CEO Patty Kinnersly
Heather with final speakers for Day Two; Rosalie O'Neale, Office of the eSafety Commissioner & Libbi Cunnington, 1800RESPECT