Yes, it's 2018 and our calendars have turned, but what better way to start a new year than with a lovely memory from the last weeks of the past year?
Amidst the excitement of the festive break, and sweltering heat, we didn't want to miss acknowledging our dear QCDFVR friend, Dr. Jackie Huggins A.M.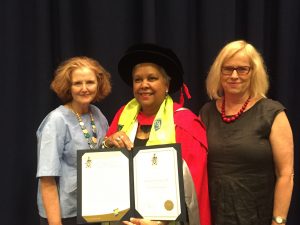 In December, the CQUniversity Brisbane graduation included the conferral on Jackie of the honorary degree of Doctor of the University!  This was a well-earned recognition of Jackie's advocacy and contributions in the field of Aboriginal and Torres Strait Islander issues- not to mention her years of service to QCDFVR.  We are very proud of this achievement and were honoured to share this special time with Jackie.
Congratulations (Dr.) Dr Jackie Huggins A.M.